Mobilisierung, Portierung, Internationalisierung. Als ich nur einen kurzfrisitigen Tag vor dem Event dem Ruf meines Ex-Arbeitskollegen und –Kommilitonen Peter Bihr folgte konnte ich noch nicht ahnen, das alles über das ich auf der next08 blogge rollt, bewegt werden soll oder bereits weit weg ist. Aber um so besser, denn warum vor dem Rechner kleben, wenn "get realtime" das Motto der Veranstaltung ist?/wp-content/uploads/nachtraeglich/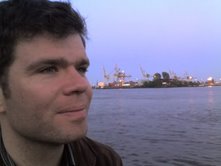 Zur Person: Zwei Jahre harte Arbeit für meinen Medienmanagement MBA an der Hamburg Media School liegen fast hinter mir. Fürs Bloggen blieb wenig Zeit und ausser ein paar Auftritten bei den Blogpiloten datieren meine Einträge auf meine Berliner Zeit zurück.
Aktuell dreht sich gerade alles um Communitystrategien und Online-Distribution von Video-Content. In freien Momenten jage ich Herausforderungen für die Zeit nach meinem Abschluß im Spätsommer.
Andreas Wagner, soon-to-be MBA in Media Management, Freelance-Blogger, Search Engine & Media Expert. If you´d like a Translation or a brief summary of my entries don´t hesitate to mail or follow me on Twitter!