Die soziale Revolution ist in den letzten fünf Jahren in fast alle Bereiche des Lebens vorgedrungen. Nur Arbeitsleben und Büro haben sich, Xing und Co. zum Trotz, noch recht wenig sozialisiert. Enterprise 2.0 ist zwar ein mächtiges Schlagwort, aber nach wie vor ein Nischenthema.
Doch nun schickt sich eine neue Generation digitaler Werkzeuge an, das Arbeitsleben zu revolutionieren. Was Yammer für Twitter, das ist Podio für Facebook – die Business-Variante. Entwickelt unter dem Codenamen Hoist, ist Podio seit ein paar Wochen unter neuem Namen unterwegs.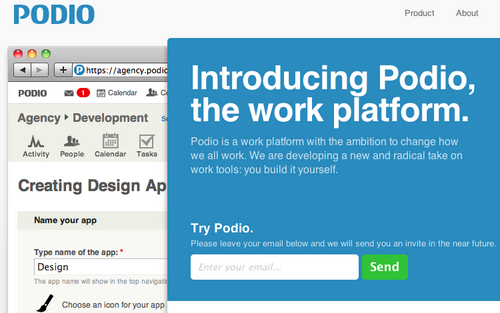 Seit August ist Tommy Ahlers als CEO und Investor an Bord. Er hatte 2008 seine Firma ZYB für 31 Mio. Euro an Vodafone verkauft und ist nun in die Welt der Start-ups zurückgekehrt. Was ist Podio?
Podio is a social work platform with the ambition to change how we all work. In Podio's eyes, we shouldn't have to adapt to our work tools, and that's why Podio is developing tools that adapt to us, and not the other way around.
Jeder Nutzer kann bei Podio eigene Apps einrichten (entwickeln wäre zuviel gesagt). Zu den ersten 2.000 Apps gehören Themen wie CRM, Besprechungsplaner, Prozessunterstützung oder Recruiting. Podio setzt auf das Netzwerk-Paradigma und auf einfache Zusammenarbeit über Unternehmens- und Organisationsgrenzen hinweg.
Was Podio von Ansätzen wie Google Apps/Docs radikal unterscheidet:
Instead of just copying existing PC-era applications and making them available on-line, Podio is innovating key work applications i.e. a calendar that understands time, a contact manager that automatically stays up-to-date, and a task manager integrated into everything you do. Podio's ambition is to change how people work.
Podio ist im Moment nur auf Einladung zugänglich, soll aber noch in diesem Jahr starten. Kasper Hulthin, einer der Gründer, stellt Podio in einem Workshop am 14. Oktober im Betahaus Hamburg vor. Noch sind einige Plätze frei.