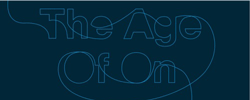 Vor kurzem haben Interone und Jörg Jelden (Jelden Trend & Transformation Consulting) die Studie The Age Of On vorgestellt. Sie untersucht auf gut 50 Seiten den Einfluss von vier Trends auf die Mediennutzung und das Kaufverhalten:
Facebook übernimmt die Macht.
Das Internet wird mobil.
Lokalisierungsdienste (Foursquare!) sind im Kommen.
E-Commerce als Wachstumsmarkt
Alles Dinge, die wir hier auf dem Fischmarkt ja auch schon länger predigen. Jetzt aber mal ordentlich empirisch unterfüttert und mit jeder Menge Einsichten in das Konsumentenverhalten angereichert.
Für die Studie haben Interone und Jörg Jelden die Mediennutzung und das Konsumverhalten von acht Early Adoptern (1Checker genannt) zwei Wochen lang intensiv untersucht, unter anderem mit aufgebohrten iPhones. Die zentralen Ergebnisse der Untersuchung wurden danach in einer repräsentativen Online-Befragung von 1.000 Personen aus Deutschland im Alter zwischen 20 und 39 Jahren quantitativ überprüft.