The App Economy brought us back to the ancient times before the advent of the Web when you had to develop different versions for several platforms. What has been PC, Mac or Linux in the old days is now iPhone, iPad, Android or Blackberry. Web-based services are forced to enter the world of application development, just to avoid getting lost in the transition from the residential to the mobile Web.
Qype launched its web platform in 2006. While the first iPhone app, dubbed Qype Radar, appeared as early as 2008, Blackberry users still have to wait for their app. But not for long, as we've learned from Qype founder Stephan Uhrenbacher. The Blackberry app is about to launch in the next few days, Stephan told us.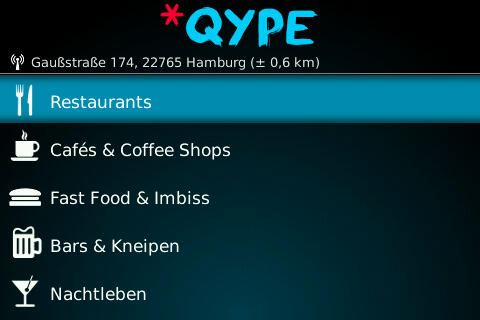 We had the chance to take a look at the current private beta version. The home screen (above) looks pretty straightforward, showing categories like restaurants, cafés or fast food. One click later the user is provided with a list of nearby venues in the selected category.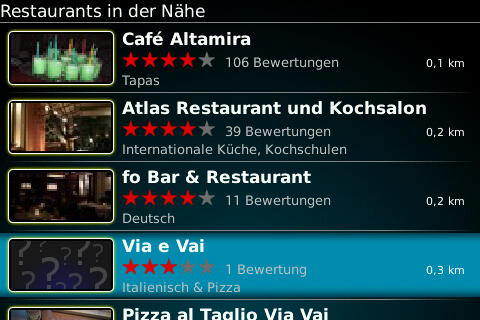 If you select a venue, the app shows basic data like the address, opening hours and aggregated user reviews.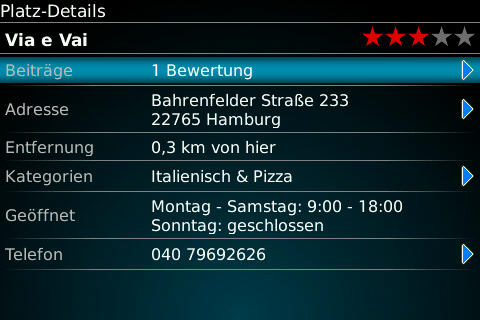 The real killer app would be the capability to post reviews of venues as you go. According to Stephan, this feature will be added soon after the launch. The current iPhone app already allows you to create new Qype locations directly from your phone, add reviews and upload photos. This seems pretty obvious, but the current user base of Qype might still need some time to adapt to the mobile space. Let's hope that in the meantime other players like Foursquare don't eat Qype's lunch.
For the future, I expect most of the data silos in the location space to open up, sharing their data over the platform boundaries, similar to what's already happening in the social network's realm. But that's another story.