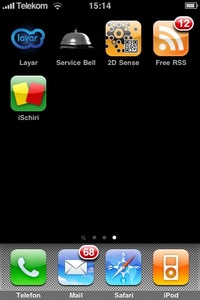 Es gibt für alles eine App. Auch dafür, dem brasilianischen Schiedsrichter Carlos Simon heute abend beim Spiel gegen Ghana notfalls die richtige Karte zu zeigen. iSchiri ist eine Web-App, läuft also nicht nur auf dem iPhone, auch wenn sie so aussieht.
Features:
gelbe Karten
gelb-rote Karten (die Klose-Taste!)
rote Karten
Pfeifen
Ein Mitarbeiter von uns hat iSchiri – just for the fun of it – auf Basis von jQTouch entwickelt gebaut. Die App läuft inzwischen auf der Google App Engine (Python-Alarm!).