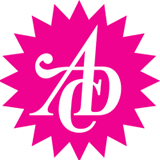 Der Wallfahrtsort der Kreativszene ist Frankfurt. Zumindest vom 12. bis 16. Mai, wenn der Art Directors Club für Deutschland e.V. zum ersten Mal in die Main-Metropole zum ADC Gipfel 2010 lädt. Das Motto The Clash of Creative Cultures verspricht ein furioses kulturelles Aufeinanderprallen der verschiedenen Kreativ-Disziplinen. Und SinnerSchrader mischt kräftig mit.
Chris Wallon, Kreativ-Geschäftsführer und Steffen Stäuber, Leiter des Innovation Lab sprechen am Freitag, 14. Mai um 11 Uhr auf der Medienbühne in Messehalle 5.0 über zwei an sich gegensätzliche kulturelle Praxen, Kreativität und Technologie, und ihren Clash im Alltag von Agenturen. Das Ergebnis des Aufeinanderprallens ist regelmäßig Creative Technology und beweist, dass auch Kreative etwas von Nerds lernen können. Die Messehalle 5.0 verbindet Hören und Sehen und beherbergt neben der Medienbühne auch die Ausstellung aller Arbeiten, die am ADC Wettbewerb 2010 teilgenommen haben.
Der ADC Gipfel: fünf Tage volles Programm und über 50 Referenten im Kongressprogramm. SinnerSchrader ist Partner des ADC Gipfels und bietet den Lesern des Fischmarkts Zugriff auf Karten zum Partnertarif. Mit dem Festivalpass für nur 399 € statt 480 € haben Fischmarkt-Abonnenten vergünstigten Zutritt zu allen Hauptveranstaltungen des Gipfels. Das Kongressticket für Stadtgespräche und Future Congress ist auf Wunsch auch einzeln buchbar zum Sondertarif von 199 € statt 250 €. Also schnell Karten sichern!