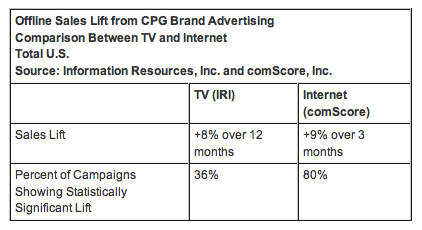 Vergleich: Umsatzwachstum im Handel durch Internet- und TV-Werbung (Quelle: Comscore / IRI)

Die Bewerbung von Verbrauchsgütern im Internet kann es mit der im Fernsehen aufnehmen. Das ergab eine Studie von Comscore in Zusammenarbeit mit Dunnhumby USA. Die Marktforscher haben die Effektivität von Onlinewerbung zur Umsatzgenerierung von Konsumgütern in den USA analysiert.
Über einen Zeitraum von drei Monaten steigerte Onlinewerbung den Abverkauf der beworbenen Marken im Handel um durchschnittlich neun Prozent. Die untersuchten Display- und Rich-Media-Kampagnen bewarben Produkte des täglichen Bedarfs wie Cerealien, Pizza, Nudeln, Säfte, Tee, Deodorants und Zahnpasta. Rund 80 Prozent der Kampagnen bewirkten ein Umsatzwachstum.
Demgegenüber erhöhte TV-Werbung den Umsatz über zwölf Monate nur um durchschnittlich acht Prozent, wie Information Resources, Inc. (IRI) ermittelte. Von den analysierten TV-Spots steigerten 36 Prozent die Umsätze im Handel.
Die genaue Zielgruppenansprache sei einer der Hauptgründe für die Effektivität von Onlinewerbung, resümiert Gian Fulgoni von Comscore. Und ergänzt:
That is meaningful in and of itself, but when you take into account the fact that online advertising is generally less costly than television, these results take on even greater significance.
[via]