Es ist ein bestechendes Bild für den Zustand der europäischen Internetwirtschaft im Dezember 2008. Da treffen sich 1.766 Teilnehmer (brutto, abzgl. No-Shows) zur fünften Ausgabe der LeWeb in Paris, um in einer ehemaligen Leichenhalle bei gefühlt frostigen Temperaturen zu frieren. Kann man die Rezession, die aus der Finanzwirtschaft kam und nun die Internetbranche errreicht hat, treffender illustrieren?
Über das Jahr 2008, das nun endlich zuende geht, hat sich die Stimmung langsam, aber kontinuierlich abgekühlt. Der Börsencrash am Montag des DLD im Januar wurde noch kaum wahrgenommen. Und das, obwohl schon vor einem Jahr die Rezession abzusehen war.
Nach drei Krisenmonaten sind die Erwartungen nun auf ein neues Tief gesunken. Und trotzdem: "Viele der Unternehmen haben die Schwere der Krise noch nicht begriffen, vor allem in Europa", meint Marc Samwer, European Founders Fund. Noch immer kürzen Start-ups ihre Kosten nicht stark genug, um ihr Überleben zu sichern.
So sind die Erwartungen für 2009 mehr als gedämpft. Lars Hinrichs wird im Januar seinen Chefposten bei Xing abgeben, plant eine größere Reise und erwartet den Tiefpunkt der aktuellen Krise für den Sommer. Dann will er wieder da sein und sein nächstes Unternehmen gründen.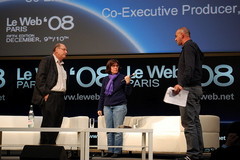 Yossi Vardi auf der LeWeb'08 (Foto: Chris Heuer)
Yossi Vardi scherzte auf der Bühne, passend zur Location, über einen Internetdienst für Tote (No churn! Lifetime subscriptions….) und ketzte dann fröhlich gegen das neue, alte Dogma der Monetarisierung:
The difference in the price of real estate in NYC and South-Dakota is the amount of traffic passing by. After you've grown an audience you can monetize it. You can't monetize your service from day one.
Wie das funktioniert, zeigt Autor Paolo Coelho. Er hat den Verkauf der russischen Ausgabe von "Der Alchimist" vervielfacht, indem er die digitale Version ins Netz gestellt hat.
You'll have to share in order to get some revenue. At the end of the day, it doesn't hurt your sales. People download the book but don't read it They wait for the hard copy anyway. Don't be fooled by the publishers who say that piracy costs authors money.
Wir nennen dieses Phänomen Share Economy. Lassen Sie uns darüber reden – auf der next conference 2009.
Update: Read more about Paolo Coelho and Share Economy on the next conference blog.