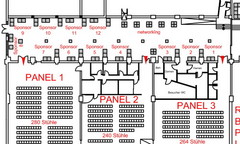 Wenn sich nächste Woche auf der OMD die Onlinemarketingszene trifft, dann gibt es ein beherrschendes Thema: Köln oder Düsseldorf? Zieht die Szene 2009 zur dmex nach Köln um oder bleibt sie auf der OMD in Düsseldorf?
Wir wissen es nicht. Wir wissen nur, dass die neue Location der next conference in Hamburg genug Platz und enorme Möglichkeiten für Sponsoren bietet. Deshalb wird es erstmals Ausstellungsflächen mit Messeständen in verschiedenen Größen geben.
Neben Keynotes und Vorträgen, entspannter Networking-Atmosphäre und, last but not least, der Party wird die next09 damit um eine Messe erweitert. Das Thema der Ausstellung heißt next marketing technologies (Arbeitstitel). Denn Onlinemarketing wird immer technischer und erfordert immer mehr technologisches Know-how, aber auch die richtigen Werkzeuge. Die zu zeigen ist die Kernidee der next marketing technologies.
Mit einer Ausnahme ist in allen Sponsoringpaketen ein Messestand enthalten, je nach Größe des Pakets. Das kleinste Paket enthält keinen Stand, kann aber erweitert werden. Für Start-ups bieten wir ein Spezialpaket mit einem kleinen Messestand und der Möglichkeit, im Start-up-Track zu präsentieren.
Weitere Informationen in unserem Sponsoringangebot (PDF, 3 MB) und bei Julia Ruf, Head of Partnerships and Sponsoring.