Der Horrorstreifen jagt einem nur gemäßigte Schauer über den Rücken. Reelle dagegen lassen sich bei der amerikanischen Plattform CriminalSearches erleben. Erschreckend dabei ist nicht nur, was alles zu finden ist, sondern dass es jeder, überall und umsonst finden kann. Die neue Suchmaschine von PeopleFinders bietet Akteneinsichten jeder Art: von Straftaten bis zu Vermerken über Geschwindigkeitsüberschreitungen.

Do you really know who people are?
Mit der Suche nach Vor- und Nachname lassen sich im Handumdrehen Daten zu der gesuchten Person finden. Bunte Labels wie ein grünes D (Drug and Alcohol), ein rotes S (Sex related) oder ein pinkes T (Theft and Robbery) helfen bei der Zuordnung von Straftaten auf einen Blick.

Criminals could be living in your neighbourhood.
Ein weiteres Angebot der Seite ist die Suche nach dem Heimatort und den dort ansässigen Straftätern. In New York sieht das Ganze dann so aus: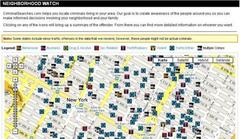 Keep informed with free criminal alerts.
Immer auf dem aktuellen Stand von einer suspekten Personen bleiben? Kein Problem: E-Mail-Abo einrichten und nie eine Folge Sünde von den Nachbarn verpassen.
Datenschutz in den USA scheint ad acta gelegt. Dafür sei der Schutz von Familien jetzt garantierter, so Bryce Lane, Präsident von PeopleFinders. Und dieses Anliegen stehe mit der Plattform natürlich im Vordergrund. Dass die Daten bei CriminalSearches unvollständig und nicht aktuell sind, beweist Brad Stone von der New York Times. In seinem Artikel verfolgt er die Spur, warum diese Daten überhaupt öffentlich sind.
"I think people generally understand the 21st-century reality that this type of public information is going to be widely available," said Nick Matzorkis, the chief executive of ZabaSearch, a search engine that provides people's addresses and phone numbers, culled from public records. CriminalSearches.com "is another indication of the inevitability of the democratization of public information online," Mr. Matzorkis said.
Ist es das wirklich? Nur ein weiterer Hype? Wenn ja, ist das ein großer Rückschritt – zurück zur Überkontrolle.
Interessant: bei Rotten Neighbors können Häuser via Google Maps markiert und kommentiert werden. Auch in Deutschland.