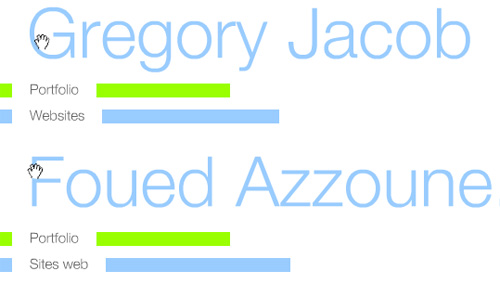 While standing outside having a smoke this morning, colleague Gregory Jacob brought me back to the subject of web design "theft", which I wrote a couple articles about in 2006. Back then, the discussion showed that there are many varying opinions of where inspiration stops and theft starts. Greg's example, which absolutely takes the cake in my experience, is without question way over the border.
Greg's a Flash guy, with a pleasingly minimal personal site. He received a mail from a friend this morning, with a link to a stunningly similar site. Have a look:
After a little research it was clear that Foued, due to laziness, deficient creativity or most likely a combination of both, had simply downloaded Greg's SWF and the XML which defines the site's content, and after a little text editing, uploaded both on his site.
It Gets Better
Not only did he shamelessly rip off Greg's work, but he then submitted his rip-off to numerous awards sites, and won on four of them.
It Gets Even Better
Not only did Foued win awards with stolen goods, but one of them, Dope, had already awarded Greg for the exact same site.
I'd like to take the opportunity to congratulate Greg. Not only a 1:1 rip-off (as we all know, "imitation is the sincerest form of flattery"), but four awards, and one of them twice. Well done Greg!
Too Easy to Do, But Also to Find
Things like this just leave me extremely confused. Let's assume that Foued Azzone is not remarkably naïve, and knew full well how wrong this is. So he uses a stolen design, right down to the file itself, to promote himself and his talents. And in a medium which is so fast, and so everywhere, that the chances of this theft remaining undiscovered are zero. And in a medium where stuff like this gets publicised like wild-fire, irrevocably poisoning is own Google-juice. What could he possibly think this would do for his career? How could he ever dream of this being good for him?
Originally published at mattbalara.com. Matt Balara works as Senior Art Director at SinnerSchrader, Gregory Jacob is Head of Flash.