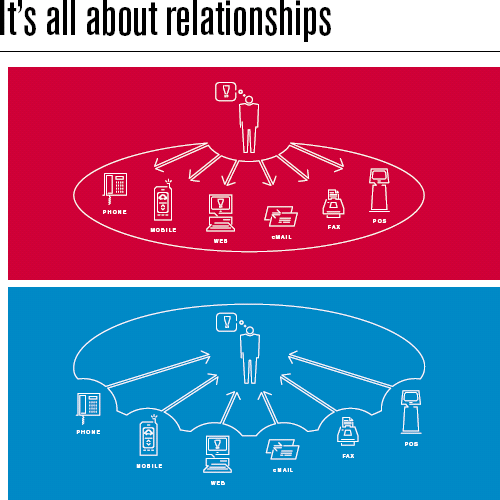 Über die Zukunft der Werbung toben dieser Tage heftige Debatten allenthalben. Facebook-Gründer Marc Zuckerberg hat mit der neuen Facebook-Werbeplattform einen nicht unbescheidenen Anspruch erhoben:
For the last hundred years media has been pushed out to people, but now marketers are going to be a part of the conversation.
Der Economist befasst sich mit den Details dieser Transformation, so es denn eine ist. Falsche Frage, meint Doc Searls, einer der Autoren des Cluetrain Manifesto. Die richtige Frage wäre demnach:
Can we equip customers to become independent of sellers and their controlling intentions — Including the unwanted crap that constitutes far too much of the world's advertising?
Was er dann skizziert, kam mir irgendwie bekannt vor:
The problem we still have is a conceptual default. We think, talk and design "solutions" that work entirely on the sell side. We have CRM (customer relationship management) systems that are less about helping real customers than about "managing" them. What we need is VRM (vendor relationship management), by which customers get to manage vendors as well. With CRM+VRM, both sides can truly relate on mutually beneficial terms.
Until CRM meets VRM and starts working out real relationships, we'll keep thinking the only answers come from the sell side and keep putting old crap in new wrappers.
Echte Beziehungen? Wow! VRM? Man könnte es auch CRM 2.0 nennen:
Die Konsolidierung der Kundendaten
seitens des Unternehmens im Sinne eines einheitlichen Managements der Kundenbeziehung (CRM) ist nur ein erster Schritt. Denn durch die interaktiven Kanäle wird der Kunde zum aktiven Partner in
der Beziehung. Vormals ausschließlich interne Unternehmensprozesse werden bis zum Kunden hinaus
verlängert und müssen hinsichtlich Nutzen und Gestaltung Akzeptanz finden. Kunden streben danach,
Produkte und Prozesse nach eigenen Wünschen maßzuschneidern. Gelingt dieses, gehen Kunden und
Unternehmen ein beinahe symbiotisches Verhältnis
ein – der Kunde wird durch seine Einbindung in die
Service- und Transaktionsprozesse des Unternehmens
zum Manager seiner Unternehmensbeziehungen.
Customer Relationship Management wird so zu Company Relationship Management (CRM 2.0).
Diese Passage stammt aus der Feder von Matthias Schrader und ist gedruckt worden im Geschäftsbericht 2000/2001 von SinnerSchrader. Daran kann ich mich noch erinnern, denn es war der erste, an dem ich seinerzeit beteiligt war.
Doch zurück zum Thema. Was ist Werbung, was kann Werbung und was kann Werbung nicht? Doc Searls:
Advertising is about supply finding and "creating" demand. Nothing wrong with that. At its best it's good and necessary stuff. But think about what will happen when demand can find and create supply. That's the real holy grail here. And it's one that will take fresh development effort on both the supply and demand sides. The difference between those two right now is that the supply side has been working on targeting, creating and controlling demand for the duration, and the demand side is still getting started.
Die Angebotsseite hat 100 Jahre Vorsprung, aber die Nachfrageseite beginnt aufzuholen.