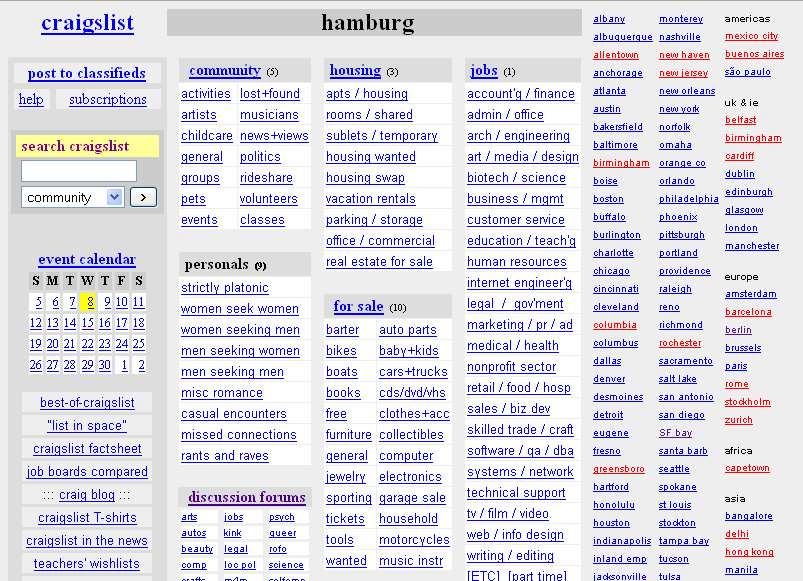 Hat eigentlich jemand Craigslist auf dem Schirm? Auf den ersten Blick sieht die Kleinanzeigen-Site so aus, als ob sie keinem was zuleide tun könnte.
Doch weit gefehlt. Signal vs. Noise, das Weblog von 37signals, zitiert erstaunliche Zahlen aus einem Artikel der New York Times:
Data collected by Nielsen/NetRatings show that eBay's page views in
April 2005 grew by less than half a percentage point, compared with the
previous April. At Craigslist, page views grew 130 percent in the same
period. According to the company's data, its traffic is now about a
fifth of eBay's. And the operational efficiencies are astounding:
Craigslist has 18 employees; eBay has 8,800.
Nun gut, hierzulande sind die Lektionen noch nicht gelernt, die Ebay dem E-Commerce erteilt hat. Deutschland ist ja nur deshalb der wichtigste Auslandsmarkt für Ebay, weil wir dem Auktionshaus bereitwillig den Markt überlassen haben.
Aber vielleicht lohnt sich doch ein Blick auf Craigslist, nur ein ganz kleiner? Hamburg jedenfalls findet dort schon statt. Und RSS-Feeds hat Craigslist natürlich auch…