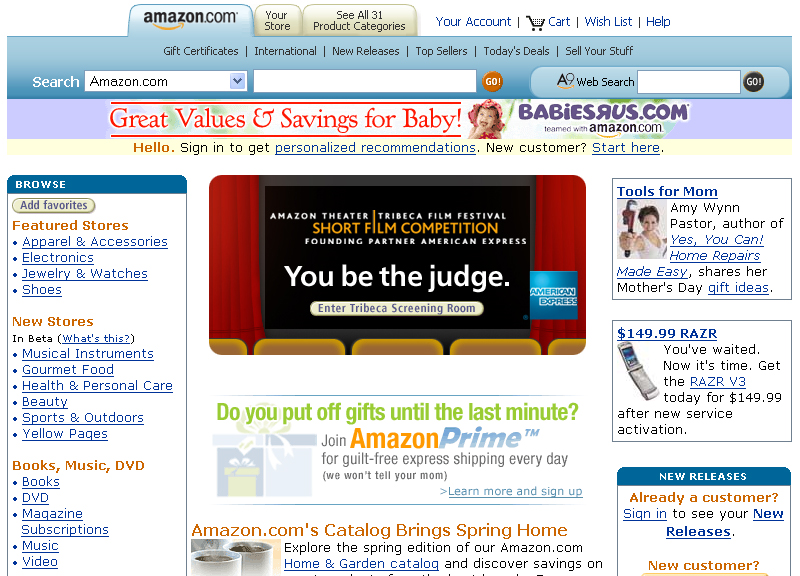 Zum ersten Mal seit Menschengedenken verändert Amazon.com grundlegend das Aussehen seiner Website. Signifikant sind vor allem das hellere Blau der Navigationsleiste (zum Vergleich hier die alte Homepage), die verringerte Zahl der legendären Reiter und die neu positionierten Suchfelder für Amazon und die hauseigene Suchmaschine A9. Der Rest sieht (noch?) aus wie gehabt.
Zwar hatte Amazon schon des öfteren die Zahl der Reiter variiert (so gab es im Jahr 2000 zeitweilig nur zwei davon, nebst einiger deutlich abgesetzter Featured Stores). Doch im Vergleich zu bisherigen, eher evolutionären Umgestaltungen ist die heutige fast eine Revolution – und verursacht durchaus Schluckbeschwerden:
What the hell is up with Amazon.com's new design? That animated pop-up
menu (the 31 categories one) makes my eyeballs want to pop out of their
sockets. If they're going to have a menu like that, it should just
appear on rollover, not have some cheesy zoom-in animation. Whoever
thought that one up should sit in a corner and think long and hard
about it. Also, they had so much equity in the old yellow, solid
header, tabbed category design. It doesn't make sense to change it to
that blue gradient. It reminds me more of Apple's website and aqua
interface, than it does of Amazon. Why do they do these things? Why???
Update: Thomas Gigold hat eins und eins zusammengezählt (sprich: den neuen Kopf und eine bereits zuvor testweise gesichtete Produktansicht montiert). Das Ergebnis: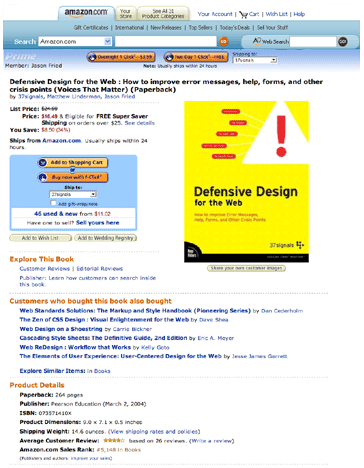 Update 2: Heute (09.05.05) ist wieder das gewohnte Amazon.com online. Mehr zum Thema bei shopanbieter.de und bei Simon Jessey.